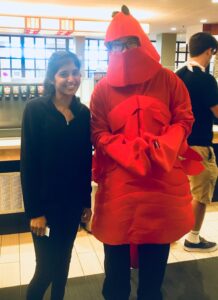 Undergraduate Education: Boston University
Major: Neuroscience
Hometown: Allentown, PA
Position: Undergraduate Student Researcher
Sabrina joined Murphy Lab in May 2018 to work with Rich on his quest to understand ATTR amyloidosis and has been slowly morphing into a younger version of him ever since. She is a rising junior at BU with an interest in neurodegenerative diseases and hopes to continue working on this in the future.
Sabrina enjoys traveling, the buffalo chicken fingers at Chequers, watching bad movies (and learning how to make good ones), and thrift shopping.