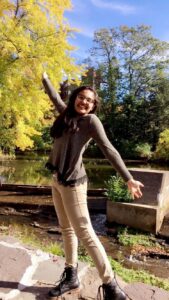 Undergraduate Education: Mount Holyoke College
Major: Undeclared
Hometown: Sharon, Massachusetts
Position: Research Assistant
Sara, more formally known as "Zaw's Deputy", joined the Murphy lab as a summer student in May 2017. She is a rising sophomore at Mount Holyoke College with a love for science and journalism. Sara is currently trying to emulate Zaw's impeccable technical skills and learn the basics of stem cell research. She has a particular interest in Sickle Cell Anemia and hopes to work on that in the future.
When Sara is not in lab (or commuting to lab), you can catch her reading, dancing, playing volleyball, or waiting for her Hogwarts letter to (finally) show up.