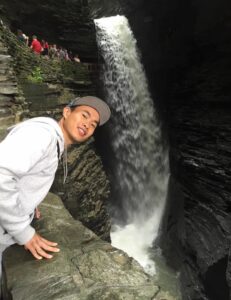 Undergraduate Education: Williams College
Major: Chemistry
Hometown: Yangon, Myanmar
Zaw joined the Murphy gang in June 2015 to succeed the vacant throne left by King James, hence stuck the name "the new James". Indeed, becoming a new-James is a process synonymous to trying hard to fit in a pair of giant shoes (both literally and figuratively) as King James was very well known for his good work and huge sense of humor in the lab and around the floor. Zaw also went through the rigorous Murphy Lab rite of passage (mycoplasma testing, autoclaving, etc) and has become a true pro maintaining the Lab. Formerly an organic chemist, Zaw has never worked with anything like stem cells nor iPSCs before. So, he is currently learning his trade from the very BESTs: King G himself, the Bruins Brendan, the Brit Amy, the kind Kim, and the talented Master Richie.
Outside his lab persona, Zaw is a die hard fan of Arsenal FC. Occasionally, he likes to sharpen his creativity with Fifa, chess and photomontage. He is also super athletic- currently he's been swimming, biking, running, weight-lifting and practicing yoga. Zaw leads a well-disciplined, humble and happy life. Zaw enjoys learning and talking about almost everything life has to offer- sports, arts, philosophy, food, mathematics, social issues, politics, religions and economics.